Click for Elijah Piper Highlights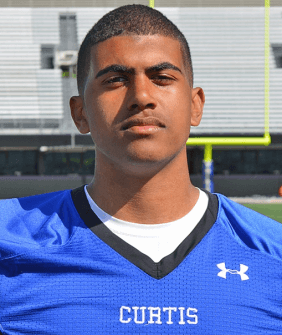 2016 Curtis (University Place, Wa.) OL/DL Elijah Piper recently received his second offer and more could be on the way in the very near future.
"I just got an offer from Fresno State earlier this week and Idaho offered me about a month ago," Piper told Northwest Elite Index. "I've been talking a lot with Washington, Washington State, Portland State, Boise State and Eastern Washington, but none of them have offered just yet.
"Eastern seems like they are close. When I went to their game this past weekend, I was talking with the coaches and they said they are close, but they can't decide if they want me on offense or defense.
"Idaho wanted to offer me first. They said they know talent when they see it and Fresno State said they liked my film a lot and they got a good recommendation from my coaches, so they said they wanted to offer as well."
While Piper has the ability to play on either side of the ball at the next level, his highest upside sure seems to be on the defensive side of the ball where his outstanding size — nearly 6'4" and 285 pounds — quick first step and great football instincts make him a real thorn in the side of opposing offensive lines.
"My team plays a 3-4, so I'm out at end, but I will probably slide inside and play the three-technique in college," Piper noted.
So far this season, Piper has totaled over 40 tackles, 20 tackles-for-loss and four sacks.
"I have a quick first step and I close really well," Piper said.
Piper and the rest of the Vikings take on Bellarmine Prep on Saturday afternoon in the first round of the state playoffs.