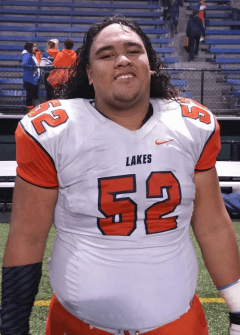 An Evergreen State player that is starting to become popular with Power 5 schools of late is 2016 Lakes (Lakewood) OL/DL Jo-bentley Keilani and he updated Northwest Elite Index recently about where things stand on the recruiting front.
"I have basically the whole Pac 12 except for Stanford after me and a few SEC programs," Keilani told NEI. "Missouri and Texas A&M are the main ones talking to me along with Washington and the rest of the Pac 12 schools.
"I've been to a few Washington games so far and I've been invited to Washington State, Oregon State and Oregon to see games, but with our schedule, I haven't been able to make it to those schools yet."
This past summer, Keilani hit Washington's camp and the Nike Camp at Oregon.
"I did really well at the Rising Stars camp (at Washington) and almost earned an offer, but they said they still wanted to see more from me," Keilani recalled. "I also competed really well at the Oregon Nike camp and I held my own there."
Lakes has made it through to the round of 16 in the 3A State Playoffs after beating O'Dea this past weekend. So far, the 6'2″, 305-pounder has totaled over 30 tackles and five tackles-for-loss while playing defensive tackle and he's also been helping to pave the way for the Lancers' rushing attack.
"One thing that has sorta hurt me is people saw me only on offense until this year," Keilani said. "I am more of a defensive guy, but we had a really good defensive line and so I just focused on offense last season.
"My best attribute is on defense. I'm aggressive and I just always attack and move forward.
"This past summer, I really focused on my strength and conditioning. I lost about 20 pounds by running and just eating better and that has really helped me."
Keilani is still waiting on his first offer, but with his natural size and strength, as well as his hard-nosed mentality and the ability to be a real run-stuffer inside, he should start attracting more attention from schools at both the FCS and FBS level.
NEI will continue to keep tabs on Keilani and his recruitment over the next couple of months and we will update news on him as it breaks.