Click for Skyler Martin Highlights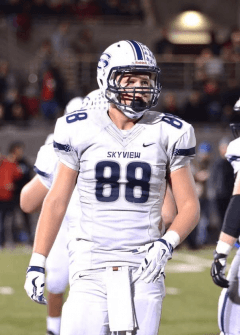 A player emerging on the recruiting radars of several schools is Skyview (Vancouver, Wash.) DE/TE Skyler Martin and he's seen recruiting interest increase over the past couple of months.
As a junior last season, Martin totaled 58 tackles, 11 tackles-for-loss, eight sacks and two forced fumbles from his defensive end spot while hauling in 18 receptions for 185 yards and two scores as a tight end on offense.
"I've been getting recruited more at defensive end, but I see myself wherever I'm needed," Martin told Northwest Elite Index recently. "I actually love both sides, so I really don't have a favorite side.
"On defense, I feel like I play fast and physical. I can shut down the run and get after the quarterback and I finish plays pretty well. I'm pretty big and I'm athletic for a guy my size and I play disciplined football."
While he's a productive player with great size, 6-foot-5 and 235 pounds, Martin knows he still has plenty of things to work on to become the player he wants to be.
"I'm working on getting stronger; I'm lifting every day," Lollar noted. "I'm trying to get quicker and more explosive, with better food speed and agility. I'm working on running crisper routes and building chemistry with my quarterback and I'm trying to develop my pass rush moves off the edge.
"I'm also working on being a vocal team leader."
Recruiting has really started to pick up over the past couple of months with plenty of schools stopping by to see him in January.
"The schools I've been talking to the most are Montana, Northern Arizona, Harvard, Columbia, Brown, Dartmouth, Princeton, Yale and Washington State, " Martin said. "Columbia told me if I don't get any big offers from over here, that I'll have a spot there.
"I'm going on some visits soon and I'm hoping to pick up a few offers before the season starts."
Schools that Martin plans to visit include an Ivy League swing with trips to see Harvard, Columbia, Dartmouth, Yale, Brown and Princeton the week he is on spring break (April 1st – 7th) and he's planning to head over to Montana on April 16th.
With camp season getting under way, Martin has started to plan out his schedule.
"I'm headed up to the Northwest Stars Camp at Kent Meridian High School on Saturday and I'm planning to be at the Northwest Elite Camp again too," Martin said. "As far as specific schools and their camps, it depends on how this spring goes for recruiting.
"I want to have a top three to five schools before summer and then attend those camps."
With his size, quickness and the way he plays the game, Martin is a rising star among the 2017 prospects within the state of Washington. He should see interest continue to pick up and he will likely have several options before it's all said and done.Click for Skyler Martin Highlights