Click for Winterhawk Leighton Highlights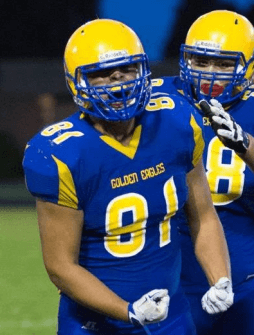 Ferndale (Wa.) TE/DE Winterhawk Leighton has been hard at work this offseason and he hopes to impress college coaches this spring as he prepares to take in several camps over the next few months.
As a junior last season, Leighton, who played both tight end and along the defensive line for the Golden Eagles, had eight receptions for 92 yards on an offense that doesn't throw the ball much and 32.5 and 2.5 sacks on defense.
"As of today, I'm a tight end and I played all along the defensive line," Leighton told Northwest Elite Index earlier this week. "I'm probably more of a defensive lineman at the next level because I might be moving to offensive line for my senior season. I don't know yet, but that's a possibility."
Leighton said he feels very comfortable along the defensive line and, when you watch his film, you see a player who has a high motor and is very active with his hands.
"I always play with a high motore and I play with a lot of intensity," Leighton said. "I take pride in how I use my hands and I also have pretty good footwork on both the defensive line and when I am asked to be a blocker along the offensive line."
This offseason, the 6'3.5″, 250-pounder has been hard at work perfecting his craft, focusing on a couple of areas that he wants to improve upon.
"I get and get to my school an hour-and-a-half hearly to lift every day and I also workout after school as well four times a week," Leighton noted. "I also do my best to get to the Barton trainings whenever they have them.
"I do footwork stuff for about 25 minutes in the morning before school and I also do yoga two or three times a week to become more flexible.
"I also watch a lot of time and analyze what I can do to get better."
So far, no schools have made any in-person contact although he has received some initial correspondence, but he plans to hit the camp circuit this spring with his first coming this weekend at the Northwest Stars Camp.
"I'll be down at the Northwest Stars camp and I'm also planning to go to the Northwest Elite camp as well," Leighton said. "I'm also planning to go to the Eastern Washington and Central Washington camps and maybe a couple in Oregon and Idaho, but I haven't mapped those out yet."
Leighton is a versatile player who could fit almost anywhere along the defensive line at the next level. He works hard, has good strength and his footwork has improved quite a bit over the past year. He'll need to hit the camp circuit to get noticed by schools, but he shold be able to impress enough to get some looks from college coaches as the process moves along