Click for Ben Wilson Highlights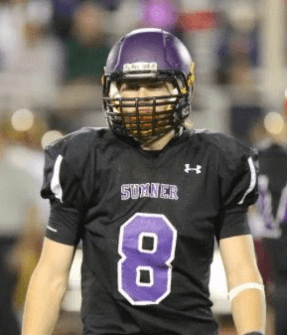 When the 2018 recruiting class rolls around, Sumner (Wash.) LB Ben Wilson will likely be one of the top athletes in the Pacific Northwest.
Wilson had a huge sophomore season while helping lead the Spartans to a 10-1 record. He finished with 181 tackles, 12 tackles-for-loss and three sacks from his middle linebacker spot.
"For a sophomore, that was a pretty big deal for me to be the starter at middle linebacker," Wilson admitted recently. "I made all of the defensive calls, so there was a lot or responsibility for me to understand what defense we were in, see what the offense was going to do and then make adjustments before the play.
"I just enjoy contact and hitting people. It's what I do best and it's why I love to play the position I play.
"I am probably at my best stopping the run just because of how I read stuff and also my physicality, but I can also get sideline-to-sideline and make plays against the pass too."
This offseason, Wilson, who is also a very good baseball player, has been hard at work adding more muscle and getting as strong as he can before baseball and spring football take up most of his time.
"I'm doing a lot of lifting and work in the weight room just to get stronger and I've also been doing a lot of speed work to help me be more explosive," Wilson noted.
As far as recruiting is concerned, Wilson has yet to grab an offer, but he has received some interest from a handful of schools.
"Washington, Montana State and Idaho have all been in contact with me, but it's so early, it's really only letters and they stopped by and talked to me during January," Wilson said.
With camp season fast approaching, Wilson has started to work out his schedule although with baseball as well, he's got a full docket already.
"I attended the Northwest Stars camp, but right now I am undecided on which college camps I will hit, but Eastern Washington and Washington are both camps that I would like to hit," Wilson said.
At 6-foot-1 and 205 pounds, Wilson doesn't currently have ideal middle linebacker size, however, with his frame, he can easily add another 10 to 15 pounds and not lose any of his speed or flexibility. If you're looking for a cerebral linebacker with solid leadership skills and the physicality to set the tone, Wilson fits that mold perfectly.
At this early stage in his recruitment, Wilson is just starting to become a prospect that coaches are keeping an eye on, but by the time his junior season is complete, he could widely be considered the top linebacker in the state and likely the Pacific Northwest and he should have plenty of offers before it's all said and done.