Click for Princeton Lollar Highlights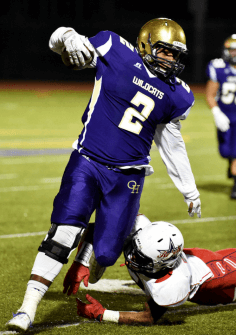 The leader of one of the state's top running games is Oak Harbor RB Princeton Lollar and he's started to see recruiting pick up since he wrapped up his junior season in November.
"Things have been going pretty well," Lollar said recently. "I have one offer — Northern Arizona — and I've had Wyoming come out here to talk to me in person and I've also been in touch with Hawaii, Portland State, Penn State, Idaho State, Missouri and Washington."
Lollar said he's hoping to get out and see several of the schools that are interested in what he can do on the football field, but at this point in time, he hasn't firmed up and trip plans.
"My parents and I have been discussing a few schools for visits this summer and maybe some during the spring, but nothing is definitely yet," Lollar said. "I'm just trying to be patient and wait and see what happens with offers and other schools that might be interested in me."
Lollar led Oak Harbor in rushing this past season with over 1,100 yards and 12 touchdowns.
At 6'2″ and 243 pounds, Lollar is a bruiser who punishes tacklers, but he said he's not just a "between the tackles" kind of a tailback.
"I'm definitely a power back," Lollar said. "I don't know many guys who can take me down one-on-one, but if I get out into space, I can also run away from guys because I think my speed is better than some people think since I'm so big."
This offseason, Lollar has been hard at work on the field, doing footwork drills and working on being more explosive in and out of his breaks.
"Honestly, I really think my strength is pretty good and where it needs to be, but my speed and quickness I think I can definitely improve on," Lollar noted. "Once I get faster it's going to be difficult to slow me down."
As far as camps are concerned, Lollar said he's planning to take in the Nike Opening Regional event in Seattle while also attending camps at Washington, UCLA and possibly Missouri as well.
NEI will have more on Lollar over the next few months as he gets further along in the recruiting process and we will update news on him as it happens.