Click for Taj Hoard Highlights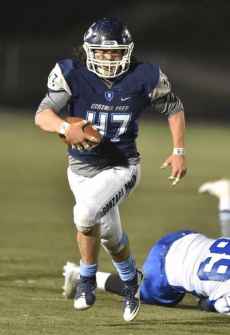 While helping to lead his team win the 4A State Title, 2017 Gonzaga Prep (Spokane, Wa.) LB Taj Hoard established himself as one of the top linebacker prospects in the Evergreen State.
As a junior last season, Hoard racked up 116 tackles to go along with 14.5 sacks, 31 tackles-for-loss, two forced fumbles, five fumble recoveries, an interception while earning Second Team All-GSL 4A honors for his efforts.
Hoard played mostly on the outside this past season, but the senior-to-be made it clear that he is not a one-trick pony.
"I just say I'm a linebacker," Hoard told Northwest Elite Index Recently. "I can play inside or outside, it just depends on where I'm needed and what type of scheme we are running."
With his statline, it appears he does everything well, but Hoard knows he still has plenty of things to work on.
"I'm good at stopping the run and I can be a good pass-rusher, either as a blitzer or just as a guy coming off the edge at the start of the play," Hoard noted. "This offseason, I've already been lifting a lot and trying to improve my overall strength and also my lateral quickness and my hip explosion."
On the recruiting front, things have been relatively steady for the 6'0, 220-pounder and he's made some plans to travel to some of his top schools this spring.
"I've heard from the North Dakota coaches and I've also been talking a little with the BYU, Montana, Colorado State and Sacramento State coaches," Hoard said. "I don't have any offers yet, but I am hoping that I get some soon.
"North Dakota invited me to their one day, elite camp and I've gotten invites to Junior Days with BYU, Colorado State, Montana and Sac State.
"Colorado State's Junior Day is the same day as the BYU Junior Day and I got the Colorado State invite first, so I'm going to schedule a time in May to go down and meet with the BYU coaches instead."
This past weekend, Hoard was one of the standouts at the Northwest Stars camp held at French Field in Kent, Washington and he said the experience was exactly what he'd hoped for when he signed up for the event.
"It was a great experience," Hoard said. "There were a lot of really good players there and you got a lot of good reps with the coaches.
"I felt I did really well in the on-on-ones and I tracked the running backs and the tight ends really well when we were asked to stick in coverage with them."
As far as camps are concerned, Hoard said he wants to hit the Eastern Washington, Washington State and Montana camps and he's planning to attend more, including the Northwest Elite camp, the Nike Opening Regional in Seattle and the Rough Diamonds camp, but he hasn't firmed up any other plans at this point.