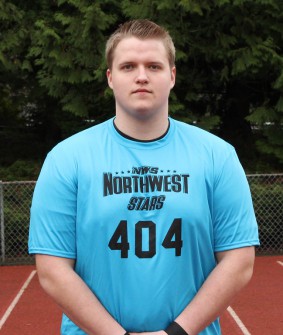 The rich tradition of South Kitsap offensive linemen has fallen by the wayside since just after the turn of the century, but 2017 OL Jacob Miller could wind up helping to reverse that trend.
The 6'3″, 280 pound lineman mans the left tackle spot for the Wolves, but he knows he'll likely need to move inside once he gets to college.
"I have more experience at left tackle, but I think I'm probably more of a guard or center (in college)," Miller told Northwest Elite Index. "I think my biggest strength is my pass-blocking, but I also finish my blocks really well.
"I train hard at having quick feet, through jumping rope and the agility ladder, which helps with pass-blocking. I also have a nastiness on the field, where I block until the echo of the whistle, trying to get pancake blocks. Lifting weights frequently has helped out with that a lot."
This offseason, Miller has focused on getting stronger as well as his quickness and agility.
"My biggest focus has been gaining muscle mass and strength," Miller noted. "I lift five times a week with my team, as well as once or twice a week in the afternoon each week. I've already gained 20 pounds since last fall, and become much more powerful and explosive.
"I'm also trying to become quicker and more agile through cone drills and jumping rope and the agility ladder.
"Lastly, I'm working to become a better leader for my teammates."
Recruiting is just getting underway for Miller, but he's hoping things pick up once he hits the camp circuit this spring and summer.
"I currently have no offers," Miller said. "I have heard quite a bit from University of Redlands and met with their coach.
"I've also been hearing from University of Puget Sound and I've visited their campus a couple of times. I've also heard a little bit from Pacific Lutheran University, but that's about it so far."
Last weekend, Miller took part in the Northwest Stars Camp that was held at French Field in Kent, Washington and he is already focued on what other camps will help him get his name out in front of college coaches.
"I have already registered for the Northwest Elite Camp and I've also looked into the Rough Diamonds Showcase," Miller said. "I'll probably attend the University of Puget Sound camp, as well as a few other teams camps. I'm not quite sure which ones yet."
We'll have more on Miller in the coming weeks and months as he continues to work his way through the recruiting process.