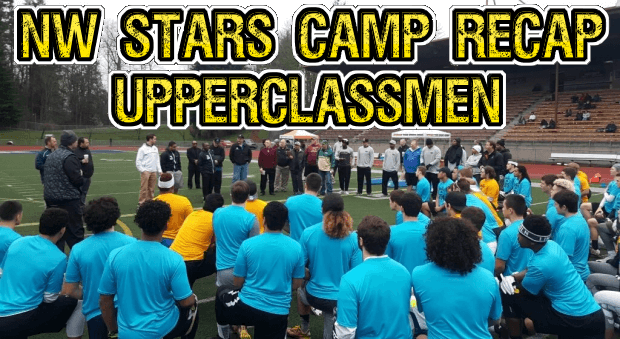 Another successful NW Stars Camp is in the books, and we will start our coverage with a look at the Upperclassmen.
The original idea for the NW Stars Camp was to help colleges fill out their rosters with graduating seniors needing to find a home for next season. This event has also slowly turned into a great way for underclassmen to get on the radar of various colleges.
Top help spread out numbers and make this event even more beneficial, we switched to position based sessions, mixing athletes from all graduating years together. To help college coaches easily identify the upperclassmen, they were given gold shirts as opposed to the light blues worn by underclassmen.
The list below does not include every upperclassman in attendance, just those who really stood out to me. This list covers all three sessions from the day, with the exception of kickers, which we will have later.
First Session
Sam Schuler (Enumclaw) was the top upperclassmen that really stood out the most to me in the first session of the day. Schuler is an athlete that has come to my attention the last few months and I have been very impressed. He played out of position in HS, and probably projects highest as a Safety due to size, but plays with speed and aggression that makes him a very intriguing as a LB. Schuler was offered by Montana State University-Northern following the event. This was the first time I have seen Young and instantly liked what I saw. Young stands 6-foot-1 220 pounds, and moves very well.
Two names that popped up when talking to the college coaches were Maceo Thomas-Murphy (Puyallup) and Kody Young (Crater). Both athletes were very physical at the point of attack and showed they like to get after it. Thomas-Murphy is an athlete I have seen a lot and he gets better every time I see him. He plays hard, fast and is a great student on and off the field. This is the first time I had seen Young and I have to say, I came away impressed. He flies around with an in-your-face style and was just a playmaker all day.
Jesse Beringer (Bellevue) had a very nice day, and continues to show why he should be getting more attention. He may be a bit undersized, but Beringer plays with a certain speed and aggressiveness that makes him an intriguing prospect.
The top RB in attendance was Adrian Valona (Gig Harbor). He has great vision, tremendous balance and shows good all-around athleticism. Valona is a tremendous student in the classroom and a very coachable athlete on the field.
I really liked what I saw from Taj Albeck (Mountain View) at RB. He will likely be taking the junior college route, but should have no problem getting to a four year university from there. Albeck is undersized but plays fast and appears to enjoy contact, even though this was a non-padded camp.
Last but certainly not least were three small school standouts in Christian Tom (North Kitsap), Jensen Mayberry (Lynden) and Quinn Carpenter (Sedro-Woolley). There was some buzz from coaches about all three, especially Tom, who really flies around the field with reckless abandon. Mayberry is a bit undersized, but is a tough presence in the middle and really had a nice day in the 2v2 and 1v1 portions. Carpenter could be a fantastic FB at the next level, and showed athleticism throughout the session and proved he is a viable receiving threat if needed.
Second Session
There was lots of talk around Dyriece Millholland-Fears (Spanaway Lake) and the 6-foot-5, 285 pounder walked away with an offer from Montana State-Northern. Millholland-Fears is a definite project, but has the size and athleticism to be a real sleeper.
Avyion Fisher (Bethel) was my top performer from the defensive side and even got a few reps on offense. His versatility showed as he may not have lost a rep during the one-on-ones. Teammate Max Marion was probably the top interior OL on the day. He showed well in run-blocking and also anchored down in pass-pro.
Cody Sturdefant (Southridge) is a TE/DE prospect that really could project on either side of the ball. I especially like his tough non-stop motor play on defense. Sturdefant is a hybrid DE/OLB that likes to get after the QB.
I liked what I saw from Graham-Kapowsin teammates Trea Hawthorne and Ryan Collier Jr. Hawthorne has been on my radar for sometime and plays with a tremendous motor and showed very well all day. Size is the only concern, but he makes up for it with drive. Collier is a true sleeper on the DL and at 6-foot-5, 230 pounds, looks like he has a frame to put on weight and be a force on the inside.
This was the first time I saw Maleik Lucious (Foss) and I was impressed. He has the strength to play inside, with the burst-athleticism to play on the edge. At 6-foot-1 and 250 pounds, he projects more inside and has the frame to add needed weight.
There was something I liked about Michael Ybarra (Garfield), but can't fully put my finger on what it was. He fought hard throughout the day and was given reps against some of the top underclassmen in the state. He projects inside and showed the toughness you would like from an interior OL.
Third Session
Fife QB Kyle Mozzone continues to show he has the abilities to play at the next level. Mozzone has prototypical size, at 6-foot-4, with good arm strength and a tremendous work ethic. Mozzone participated in both the first and third session, and was one of the more consistent QB's in attendance.
Cedric Brooks of Parkrose HS in Portland was one of the top all-around athletes in attendance. He has the athleticism to be a DB, but really threw the ball nicely all day. I would consider Mozzone to be the top pocket-passer, with Brooks being the top dual-threat.
The top DB in attendance was Justus Ross (Santa Monica College). I've been watching Justus for a few years now and there is no doubt the kid can play. He is one of the most physical Safeties I can remember from Washington, and showed improved man-to-man coverage skills throughout the session. Along the same lines of Ross is Sumner's Kolby Nikolaisen. He is a bit of a tweener between LB and S, but projects best as a Safety. He showed good coverage skills throughout the session and came away with a few INTs.
My top WR would be Tyler Torgerson of Puyallup. Torgerson probably doesn't pass a ton of eye tests, but he is technically sound and doesn't drop a ball if he can get at least a finger on it. Not far behind Torgerson was Terrell Bromer of Lincoln in Tacoma. Bromer stands 6-foot-3 and really uses his long-lanky frame well to create space, and is good getting in and out of his breaks.
Two small school QB's that had nice days were Montesano's Jake Herzog and Stayton's Kyle Schwarm. Herzog is undersized, but is one of the hardest working QB's in the state and continues to show progress. He threw a nice ball all day and was great in the one-on-ones. Schwarm has nice size at 6-foot-3, 210 pounds, and throws a fantastic ball. He has a quick release with good zip and is sneaky athletic.
Auburn Riverside teammates Dennis Beard and RaShon Miller have both had their names pop up on college radars following the event, and should be seeing considerable interest. Both athletes showed tremendous all-around athleticism and excelled in the one-on-one session.
Daevon Gulliford (Curtis) and Justin Brandon (Mount Si) were two of the more impressive athletes in the session. Gulliford does a great job creating separation and showed good speed to go with really nice hands. Brandon did his damage as a DB and had a nice day in one-on-ones. He has a solid frame and could have his best days ahead of him.
Dylan Libby (Castle Rock) is a small-school standout that really had a nice day. He has seen some NAIA interest and should see plenty more after a find showing. Dylan Scaggs (Graham-Kapowsin) had one of the true highlight reel catches of the day and really fights for every ball. Scaggs plays hard, fast and really is a technician.
Two of the more technical WR's on the day were Griffin Overa (Anacortes) and Xavier Martin-Jones (Wilson). Overa runs really nice routes and does a nice job fighting off the press and making himself available. Martin-Jones probably projects best inside, but had a nice showing outside during the day. He is a good all-around athlete and was awarded with a scholarship following the session.
I liked what I saw from DB Isaiah James (Columbia River). He has good overall athleticism, was stout in press coverage and showed the ability to turn and run with the receiver. Elijah John was down from Terry Fox Secondary in British Columbia, Canada, and showed he was more than capable going against his American counterparts.