Click for Connor Johnson Highlights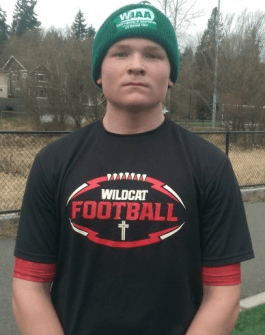 Because he runs an offense that is very run-heavy, 2017 Archbishop Murphy (Everett, Wa.) QB Connor Johnson hasn't gotten much notice for his passing skills, but that's been changing over the past couple of months.
"I see myself as more of a pocket-passer, but I have the ability to escape the pocket and I can hurt teams with my legs if I need to," Johnson told Northwest Elite Index in a recent interview. "I'm definitely a pass-first guy, I like to keep my eyes down the field, but I feel pretty comfortable getting out and using my legs when the situation calls for it.
"I'd say I'm good at working with the windows my line provides and I can read defenses pretty well, so I know where the ball needs to go."
As a junior last season, while helping to lead the Wildcats to a 12-1 record and a berth in the 2A State semifinals by completing 65.8% of his passes for 1,784 yards with 20 touchdowns and just four interceptions.
Johnson has been hard at work this offseason, throwing with his teammates and hitting the weights, trying to add size to his 6'1″, 203 pound frame.
"I definitely want to get stronger and bigger," Johnson said. "I've also been working on my speed and getting my forty to where I'd like it to be. A lot of that has to do with being more explosive and getting my footwork down.
"I also throw with my receivers two or three times a week just trying to get the chemistry down that we need to be successful this season."
A couple of weeks ago, Johnson took part in the Northwest Stars camp held at Kent Meridian High School and he said the event was valuable, not only for the reps, but also to hone his skills against some of the top competition in the state.
"I felt I did pretty well, but you always have stuff you can do better," Johnson said. "There were a lot of talented players out there, so you had to make sure you were on target and made the right throws and reads."
Other camps that Johnson plans to attend are the Northwest Elite Camp in early June as well as the Eastern Washington, Linfield and Oregon camps.
"So far, Linfield is the only school that has really contacted me so far, but it's still early," Johnson said. "My dad and I have been contacting a lot of schools and sending my film out to a bunch of them, but so far, not a lot of schools have been calling."
Johnson is an underrated signal-caller who is used to winning. He's a solid leader with good mobility and accuracy. Remember his name as the recruiting process moves along. He should start getting more attention as more schools get a look at what he can do.