Click for Markus Sullivan Highlights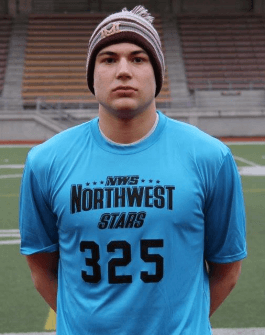 2017 Jackson (Mill Creek, Wa.) ATH Markus Sullivan comes from great bloodlines, but at this early stage of the recruiting cycle, he's drawing attention from several colleges due to his own merits.
Sullivan's family tree includes his older brother Daniel, who was the placekicker at Montana, and his uncle is former Auburn QB and Heisman trophy winner Pat Sullivan, but it's what the 6'4″, 215 pounder has been able to do on the football field that has college coaches intrigued.
As a junior last season, Sullivan earned Second Team All-Wesco honors after totaling 111 tackles, 15 tackles-for-loss, three forced fumbles and four blocked kicks during his first season at linebacker.
"Up until this past season, I had mainly played defensive end, so I still have a lot to learn, but I felt I had a good first season there," Sullivan told Northwest Elite Index recently. "I think I have a good first step and I am a pretty physical player."
Since he's so new to his position, Sullivan knows he has a lot to work on this offseason to maximize his potential.
"I still have a lot to learn about the position," Sullivan acknowledged. "I'm going to watch a ton of film this offseason to bring up my 'Football I.Q.' and workout to build up some more speed and strength."
On the recruiting front, things have begun to pick up steam over the past few weeks.
"I don't have any offers yet, but I have been in contact with coach (Pete) Kaligas from Wyoming and I was invited to take unofficial visits to Washington and Washington State for games," Sullivan said. "Montana State invited me to their Junior day and I have been talking to Yale and Hawaii and San Diego State has been in touch with my dad."
A couple of weeks ago, Sullivan took part in the Northwest Stars camp and he was recognized as one of the top performers in his position group.
"I think I performed pretty well," Sullivan noted. "I definitely felt like I was one of the faster players there and did really well in the one-on-ones versus the running backs. There was definitely a lot of stuff I could take away from that camp so I felt pretty good about my performance, but there's still some things I need to work on."
Other camps that Sullivan plans to attend include Montana, Washington, Boise state as well as a team camp at Oregon and the Northwest Elite Camp which takes place the first week of June.
With his size and oustanding instincts, Sullivan is a real up-and-comer in the state of Washington as far as 2017 recruits are concerned. He's still waiting on his first offer, but as more schools get a look at his junior film and in camp, Sullivan could see some offers start to roll in and then it's just a matter of where he fits in best when it's all said and done.