Click for Kyle Hollabaugh Highlights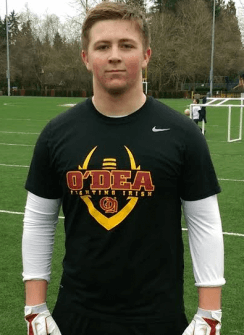 After a solid junior campaign, O'Dea (Seattle, Wa.) LB Kyle Hollabaugh is poised to be one of the rising stars in the class of 2017 within the state of Washington.
Hollabaugh posted 85 tackles to go along with 8.5 tackles-for-loss from his inside linebacker spot this past fall and he said a big reason for his big numbers is because he always seems to be around the ball.
"I feel like I read things really well and I have the speed to get to where the play is going and then I have the physicality to make the play when I get there," Hollabaugh told Northwest Elite Index. "I react really well to the ball and I have good instincts and I study a lot of film, so that helps me a lot.
"I can recognize formations and be pretty sure about where the ball is going to go and then when I get there, I play physical and bring the ball-carrier down."
While the 6'0, 215-pounder already displays a solid knowledge of the game and he demonstrates the intangibles necessary to be a success, Hollabaugh said he knows there is still plenty to work on this offseason.
"I'm definitely working on my strength and my speed," Hollabaugh noted. "I am lifting a lot. I feel like I'm living in the weight room right now and I am also out running and working on my explosiveness just so I can get faster and make more plays to help my team."
The University of Redlands is the only school to contact Hollabaugh to this point, so recruiting has yet to really take off, but he hopes that things will pick up once he hits the camp ciruit this spring and summer although he has yet to really map out a plan for which camps he will hit.
"I am a baseball player too, so I have to fit camps into my schedule and that's kinda hard to figure out right now," Hollabaugh said. "I want to get to a bunch of camps, especially the Northwest Elite Camp, but I just need to sit down and figure out which camps I can fit into my schedule."
One camp that he did take part in, the Northwest Stars Camp in Kent a couple of weeks ago, allowed him to showcase his abilities, not only in pursuit but also in coverage.
"I thought I did okay, but I definitely felt I could have done better," Hollabaugh acknowledged. "I felt I did really well at shutting down the running backs when we were in coverage, but I didn't do as well in my pursuit drills, so that's something I need to work on a little bit."
Hollabaugh is the next in a line of great O'Dea linebackers who can be a difference-maker at the next level if he finds the right situation. He has good instincts and leadership skills and he is always trying to perfect his craft. The program that takes him will need to show patience as he gains more size and gets used to the speed of the game, but there is no question he could be a real asset once he steps on a collegiate field.