Click for Mario Tupou Highlights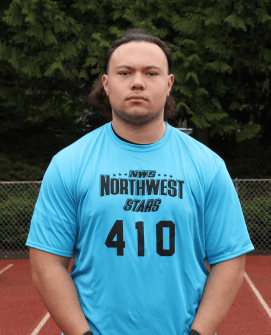 Even though his school is at a low-point as far as competiveness is concerned, Inglemoor (Kenmore, Wa.) OL/DL Mario Tupou is still a name to remember in the 2017 in-state class.
Tupou played both ways for the Vikings last season and while he feels he's a much better offensive lineman, he thinks he'll play defense once he gets to college.
"I'm already better when I play offensive line just because I've been playing it for a while and I feel pretty comfortable there," Tupou told Northwest Elite Index recently. "Most of the schools recruiting me see me on defense though and I'm fine with that.
"I sorta have a defensive mentality. I like to make plays and keep my teammates going and not quitting. Our team wasn't very good last year, but we never quit and a lot of that is our effort. We all run to the ball well. That's what our coaches have told us to do and that is what I focused on last year."
Even though he was a success at guard as a junior last season, the 6'3″, 298-pounder will move outside and handle left tackle duties.
"I've never played there, but my coaches feel like I can help my team out the most out there, so that's what I'm going to do," Tupou noted.
As far as recruiting is concerned, Tupou doesn't have any offers at this point, but he has had plenty of schools showing him some interest so far this offseason.
"So far, the schools I've talked to the most are New Mexico Highlands, Washington, Central Washington and Portland State," Tupou said. "A lot of other schools, mostly from the Pac 12 and Big Sky, have been sending me stuff, but the first four are the ones I've been talking to the most."
Tupou was one of over 400 prospects to take part in the Northwest Stars camp a couple of weeks ago and he felt the experience was a good one.
"There were lots of guys out there and lots of great competition which is fun when you are in the offseason," Tupou said. "I felt I did really well in the one-on-ones, but there's always stuff you can work on. The coaching there was excellent and I felt like it gave me some stuff to work on, but it also showed the coaches what I could do."
Other camps that Tupou hopes to hit this spring and summer include the Northwest Elite camp in early June, the Nike Regional Event in May, the NUC in May as well as camps at schools like Central Washington, Washington, Washington State, Eastern Washington and Oregon State.
Because Tupou's team has really struggled over the past couple of years to be competitive, Tupou is flying a bit under-the-radar, but when he hits the camp circuit this spring, look for more schools to pick things up with Tupou and for him to have at least a handful of offers when it comes time for him to make his decision.