Click for Duncan Varela Highlights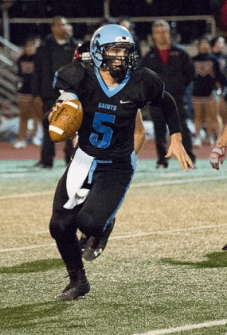 Interlake (Bellevue, Wa.) High School is hoping to make a move up the 3A rankings this fall and the man that will help get them there is 2017 QB Duncan Varela.
As a junior last season, Varela helped lead the Saints to a 5-5 record by completing over 60% of his passes for 1,589 yards with 19 touchdowns and eight interceptions.
The thing to remember about Varela is he's not just a pocket-passer. He can get out and hurt defenses with his legs as evidenced by his team-leading 730 yards and eight touchdowns on the ground.
"I think I'm an athletic quarterback," Varela told Northwest Elite Index. "I can pass from the pocket and escape when I need to and throw on the run.
"I also can tuck the ball and run for yards when I need to and I don't shy away from contact, but I'll pick and choose when to fight for extra yards or slide or get out of bounds."
This offseason, Varela has been hard at work both in the weight room and out on the field working on his mechanics.
"I'm in the weight room four or five days a week before school to work on getting bigger, faster and stronger," Varela noted. "I'm also going to camps and working on my own with drills that I've learned from my coaches and the camps to help with my footwork and mechanics as a quarterbacks.
"As a team when people are available we get together and play 7-on-7 so I can get the chance to read a defense and throw to my receivers.
"I also want to become more of a vocal leader for our team this year since I will be a senior and I believe our team can be very successful with the help of our senior group leading the way not just by example, but also vocally."
So far, recruiting is still in its infancy as far as Varela is concerned, but he has started to hear from a handful of programs.
"I've gotten questionnaires from Washington, Arizona, Idaho, Harvard and Yale so far," Varela said. "Arizona sent me tickets to their games and so did Idaho. I've been in contact with the Harvard recruiter a little bit but that's the only contact I have gotten with a coach and Army called my coach and expressed a lot of interest is me."
A couple of week ago, Varela was one of 450 prospects to hit the French Field turf at Kent Meridian High School and he came away feeling like he learned a lot.
"I feel like I could have done better, but I came out of it with an idea of what I need to work on to improve my game which was a positive," Varela acknowledged.
As far as other camps are concerned, the senior-to-be said he hopes to hit as many Barton camps as possible as well as the Washington Rising Stars camp and then he's hoping to make a trip out to the East Coast in order to check out Harvard, Yale and West Point and possibly BYU as well.
NEI have more on Varela in the coming weeks and months as he continues to work his way through the recruiting process and we'll update news on him as it happens