Click for Joe Nelson Highlights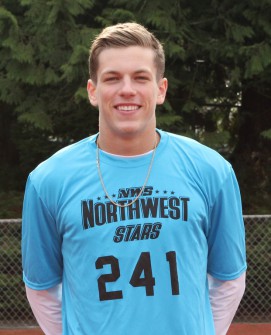 One of the top returning in-state wideouts this coming fall will likely be 2017 Issaquah WR Joe Nelson and while he's still waiting on his first offer, plenty of schools have taken notice of what he can do on the football field.
As a junior last season, Nelson hauled in 54 receptions for 760 yards and nine touchdowns, using his 6'3″, 180-pound frame to be a difference-maker in the Issaquah passing game.
"I see myself as a tall, athletic wideout with good technique," Nelson told Northwest Elite Index. "I have the ability to get separation from the defensive back that's covering me and I go up and attack the ball in the air."
This offseason, Nelson has been out working on being more explosive while also continuing to work on his route-running and technique.
"I'm running track and in my workouts for that, I have really worked on being more explosive out my stances and also just on my overall technique with my footwork and steps and just making sure I'm being efficient in everything I do."
On the recruiting front, things have been slow but steady for the talented wideout and he hopes to attend plenty of camps that will help him get his name out there for coaches to take note.
"I'm getting recruited mostly for football, but I am also hearing from schools about track as well," Nelson noted. "The main schools I have heard from about football are Cal, Utah State, Boise State and Wyoming.
"I'm hoping to get out and see some schools this spring, but I also want to hit as many camps as possible.
"I love to run track, but I am more of a football guy. It's been in my blood since I was a little kid. I just love he contact and team aspect of it all. Football is big in my family too."
Nelson took part in the Northwest Stars Camp a couple of weeks ago and he said he felt the competition-level there helped him improve.
"I definitely felt like I was one of the best receivers there, but there was a lot of good prospects and players there," Nelson said. "I competed well and felt like I did pretty well, so it was a good experience."
In addition to that camp, Nelson said he's hoping to attend camps at Washington, Washington State, BYU, Boise State and Utah State among others.
NEI will continue to keep track of Nelson as he winds his way through the recruiting process and we will update news on him as it happens.