Click for Malakai Fifita Highlights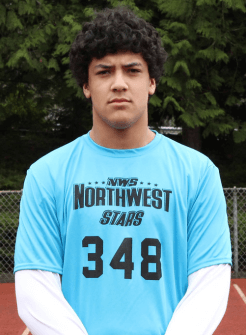 One player flying under-the-radar so far in this recruiting cycle is 2017 Glacier Peak (Snohomish, Wa.) OL/DL Malakai Fifita, but that could change starting this spring after he hits the camp circuit.
Fifita currently measures in at 6'2″ and he tips the scales at 245 pounds. He plays both ways for the Grizzlies, but he said he feels his future lies on the defensive side of the ball.
"I like playing on both sides, but I see myself as more of a defensive player," Fifita told Northwest Elite Index. "I love the aggressiveness and physicality needed to play defense and overall I feel I am more developed and experienced on the defensive side of the ball.
"I want to make it clear though, I'll play anywhere I am needed and I love getting any opportunity that I can to play in games and develop myself as a player and athlete."
So far, recruiting has been a bit on the slow side, but he's hopeful that things will pick up in the next few weeks once he starts to hit the camp circuit.
"I've been receiving mail from the University of Wyoming for a while. I've been working with my coach, (former Glacier Peak head coach) Rory Rosenbach, on making a plan to attend some football camps in the very near future and start communicating with schools that I might be interested in playing for," Fifita said. "Overall though, it's been very quiet."
Fifita took part in the Northwest Stars camp a couple of weeks ago and he said it was a good experience and also showed him some things he needs to work on.
"I felt I did pretty well amongst a lot of talent," Fifita noted. "I definitely know some extra things I need to work on and overall I'd say I was one of the higher end linemen attending the camp."
The senior-to-be also noted that he's looking at camps at Washington, Oregon State, Oregon and Eastern Washington. He's also looking at visiting several other schools and possibly attending camps there as well.
"I might also take a trip to Utah and attend the BYU, Utah, and Utah State camps," Fifita said. "Other schools that I am interested in, but may not attend their camps are schools like Boise State, Air Force and Wyoming.
"That's just a rough list and it could change, but these are the main schools I am interested in."
Fifita is an accomplished wrestler who had a successful junior season.
"I was district champ, a regional finalist and I ended up taking seventh at state this year," Fifita said. "It was the first time I was able to wrestle in the post season, as I had season ending injuries my freshman and sophomore years of wrestling, so I was really happy with the fact that I could finish the season strong, but I plan on coming back next year and placing higher at state."
Fifita is an intriguing prospect with the natural size and strength to be a force on either side of the ball. He should see recruiting pick up in the coming weeks as more schools get a chance to see what he can do, both on film and in their camps and it wouldn't be a surprise if he has a handful of offers before the end of the summer
NEI will continue to keep tabs on Fifita in the coming weeks and months and we will update news on him as it happens.