Click for Xavier Banner Highlights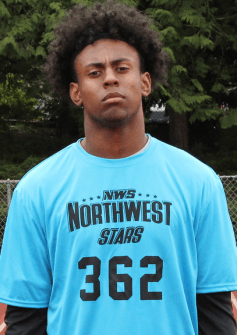 2017 Lakes (Lakewood, Wa.) LB Xavier Banner has started to pop up on some radars in recent weeks and he's a player who should garner even more attention as we get into the spring and summer.
As a junior last season, Banner totaled 33 tackles, seven tackles-for-loss and three sacks while playing mostly defensive end for the Lancers.
"I used my quickness a lot and I have a good 'get off' so I can get the advantage early on the lineman that is trying to block me," Banner told Northwest Elite Index recently. "I use my hands pretty well, that's something I've worked on a lot with my coaches, so that helps me a lot too."
This offseason, the 6'0, 205-pounder is adding some versatility to his game and he'll play more linebacker this fall.
"I'm definitely working on my speed. I know I can get faster and that's been a big focus for me," Banner noted. "I don't want to rely on my speed along, so I've been working a lot on my strength a lot too.
"I lift a lot and I do track workouts. I'm always in the weight room, at least five times a week, and I can already see the difference so far."
On the recruiting front, things have just begun to pick up for Banner who attended Oregon State's Junior Day last weekend.
"I went to Oregon State last weekend with Cale (Lindsay) and we had a great time," Banner said. "I loved it down there and the coaches were really welcoming to us. They have good academic support and they really push you to be your best on and off the field.
"I'm heading over to Washington State on the second of April for their Junior Day so that should be fun too."
Banner also said he spoke to a handful of coaches at the Northwest Stars Camp a couple of weeks ago.
"I talked to the College of Idaho coaches and the Central Washington coaches after the camp," Banner said. "I'm actually going to head over to the Central Camp with my team, so that should be good and it'll be a chance for them to see me work with my team.
"The Prime Time Poly Camp in Los Angeles in June is another one I want to get down and be part of."
We'll have more on Banner in the coming weeks and months as he continues to work his way through the recruiting process.