Click for Terrell Moffitt Highlights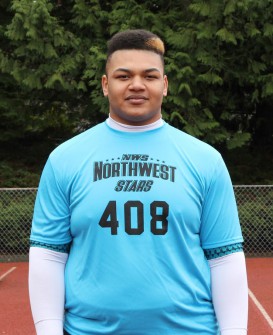 Auburn (Wa.) Riverside DL/OL Terrell Moffitt is a big, athletic player who is just now starting to pop up on recruiting radars.
While it's been a bit of a struggle on the field for the Ravens the past couple of seasons, Moffitt has been a standout on both sides of the ball. However, he feels like his future lies along the defensive line.
"I think I prefer defense more," Moffitt told Northwest Elite Index. "I love it over there. I like getting after the quarterback and being able to be physical at the point-of-attack.
"I've got good quickness and footwork and I play with good pad-level, so I have good power and I love to work and occupy blockers and fill gaps."
As a junior last season, Moffitt totaled 30 tackles, five tackles-for-loss and three sacks from his nose tackle spot.
"I've been working a lot on a bunch of things because I want this coming season to be my best one since it's my last year in high school, so I've really focused on my footwork, being lighter on my feet, and also being a better run stopper," Moffitt added.
On the recruiting front, things are just getting started for the 6'4″, 330-pounder who attended the Northwest Stars camp last month.
"I had a pretty good camp and I felt like I did pretty well," Moffitt noted. "I talked to a couple of coaches there after the camp and they seemed interested.
"The ones I remember talking to are Pacific, Central Washington, Western Oregon and Pacific Lutheran.
"There are a few other schools that have talked to my coach, but so far, those are the only ones I have talked to."
As far as future camps are concerned, Moffitt has started to map out a plan for which ones he'd like to attend.
"I'd like to get up to Washington for their camp and definitely the Central Washington camp and probably the Northwest Elite camp too," Moffitt noted. "I just like to compete and I want to get to as many as I can, but I haven't really looked at a schedule of them yet, so I'm not sure exactly which ones I will hit other than those three."
NEI will continue to keep track of Moffitt during the process and we will update news on him as it happens.