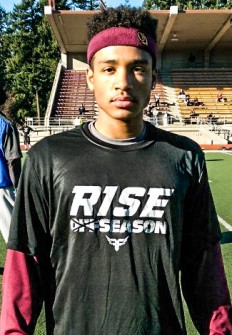 Football coaches are always looking for speed on both sides of the ball and one player in the state of Washington that has that trait in spades is O'Dea (Seattle, Wa.) ATH Quinton Lewis.
Lewis played both ways for the Irish last season and put up 28 receptions for 400 yards and four touchdowns in an offense that is heavily run-oriented while racking up seven tackles and an interception on the defensive side of the ball.
"I like wide receiver more, but I'll be starting both ways this fall," Lewis told Northwest Elite Index. "Running routes is something I feel like I am good at. I take a lot of pride in my ability to run my route and get separation so I can get open.
"I have good footwork. I played soccer my whole life, so I have really good feet and my my quickness off the line is another thing that helps me."
Lewis has seen a steady flow of interest from schools since the end of his season, but so far he's still waiting on his first offer.
"I've been talking a lot with Navy, Washington, Eastern Washington, Arizona, Northern Arizona, Idaho, Texas Tech and Yale," Lewis said. "Eastern seems like they could be close to offering and I'm really hoping that one comes in too.
"Most of the schools like me just as an athlete, but Eastern is recruiting me as a wideout."
The last weekend of February, Lewis attended the Northwest Stars camp and he said it was a great experience.
"It was fun," Lewis noted. "I did pretty well in the drills but I feel like I excel at one-on-ones and in those I caught nearly every ball and ran some really good routes. I had to go to my basketball game after so I didn't get to talk to as many coaches as I wanted to but overall I think it was productive."
Lewis is also planning to attend several other camps.
"I'm definitely going to the Northwest Elite Camp and I'll probably head to the Washington and Eastern Washington camps and I'm looking at some other camps, but I haven't seen which ones I'm going to go to yet."
NEI will have more on Lewis in the coming weeks and months as he gets further into the recruiting process.