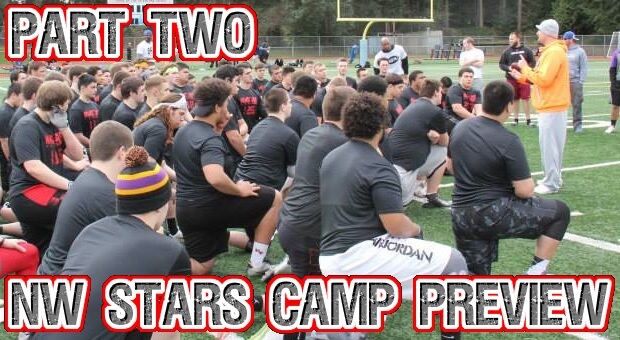 The NW Stars Camp is just a few days away now, and session two looks to have more talent than usual, specifically in the trenches. This preview will be only about linemen attending the event. There were a few linemen mentioned in the first NW Stars Camp Preview, which can be viewed by clicking This Link .
This list is not a list of everyone that has signed up, nor will I be mentioning everyone. For an athlete to be mentioned in this, I have either seen them in person at a game or a training event, or I have viewed actual game film, not just highlights.
For more information on the event visit NWStarsCamp.com by clicking the link.
Caleb Davis (6'4″ 285, '16 DL) Bonney Lake – Click for Highlights – Davis is a force on the defensive line, with a very good first step. He plays with intensity and a motor that never stops. Davis has the strength to be tough against the run, with the speed and quickness to get after the QB.
Giovonni White (6'3″ 275, '19 OL) Lincoln – Click for Highlights – I'm a big fan of White. He is still very young, and has a ways to go towards being elite, but the physical tools are there for him to be one of 2019's top interior linemen. He plays with a rare intensity for such a young athlete, something that can't always be taught.
Aric Davison (6'3″ 271, '19 OL) Richland – Click for Highlights – Davison has just finished his freshman season and really looks like he has a bright future. He has good technique for his age, and with three full years of HS football left, the sky truly is the limit.
Brian Greene (6'4″ 320, '17 OL) Eisenhower – Click for Highlights – Greene already has a D1 offer, but knows events like the NW Stars Camp are crucial in recruiting. He projects inside as a G/C and really brings a mean/nasty presence. Plays with a lot of confidence and is great at finishing blocks.
John Blasco (6'6″ 300, '17 OL) Stadium – Click for Highlights – Blasco is a very intriguing prospect. He has big time size and is sneaky mobile. His film shows a raw athlete that is really starting to come into his own as a football player. He truly has his best days ahead of him.
Max Marion (6'2″ 240, '16 OL) Bethel – Click for Highlights – Marion is a true center and really is top of the line. Might be a bit undersized for most, but he has the frame to add the appropriate weight and really is an intelligent football player. Marion has some mean-nasty to him that you like, and works to prefect his craft.
Tyler Ganoung (6'3″ 288, '18 OL) Prairie – Click for Highlights – Speaking of working to perfect his craft, Tyler Ganoung works very hard and has had a tremendous offseason. I have been watching Ganoung for a few years now, and things are really starting to click. His technique is sound and he will likely surprise some folks in the one-on-one.
Jacob Miller (6'3″ 280, '17 OL) South Kitsap – Click for Highlights – Another true center, Miller is one of the top interior lineman in the 2017 class. He has the versatility to play multiple spots along the line, but really is best suited at center. Miller is also a tremendous student, currently sporting a 4.0 GPA.
Auston Downs (6'4″ 270, '17 OL) Moses Lake – Click for Highlights – We saw Downs for the first time at last year's NW Stars Camp. He had a nice day, and really carried that over to a very good junior season, as he continues to grow physically and as a player. I love the intensity Downs plays with, as well as his tireless work ethic.
Joel Daul (6'4″ 235, '17 OL/DL) Jesuit – Click for Highlights – Speaking of work ethic, Joel Daul has plenty of that. He has been training for years as a skill player, and is now doing some damage on the OL. Daul will need to gain some weight to move on to the next level, but has a frame that should allow that.
Jared Daul (6'4″ 231, '17 OL/DL) Jesuit – Click for Highlights – Jared Daul also got the work hard gene, and much his brother, will need to add weight. Both athletes were all-league last season on the OL, but could also project to the defensive side of the ball when all is said and done.
Mario Tupou (6'3″ 295, '17 OL/DL) Inglemoor – Click for Highlights – Mario is one of the more underrated linemen in Washington. He hasn't gotten a ton of pub because Inglemoor just hasn't been very good, but he can play. Tupou plays with a mean mentality and is very coachable.
Jesse Sims (6'2″ 225, '17 DL) Bothell – Click for Highlights – Sims is a very good two-way lineman, but really projects as a DT. He has a mean mentality and works hard to elevate his game. Size could be a concern to some, but Sims really plays bigger than his numbers show. Sims is also a great student, with a 3.87 GPA.
James Hillard III (6'1″ 250, '17 DL) Central Catholic – Click for Highlights – Hillard doesn't have a ton of film, but there is a lot to like. I think he projects highest as a DT, but some even suggest he could be a FB. He is athletic enough to play a few different positions.
Spencer Thompson (6'2″255, '18 OL) Eastlake – Click for Highlights – Thompson plays RT for his team, but projects best inside at G/C. He has athleticism, likes finishing his blocks and has a high ceiling. With hard work and dedication, Thompson could be one of the better interior linemen for 2018.
Brock Wellsfry (6'7″ 295, '17 OL) Hanford – Click for Highlights – Wellsfry has a huge hulking frame and is still relatively under the radar. He does a good job getting to the second level and plays with some intensity. Time will tell, but he could be a hidden gem from a great 2017 class in Washington.
Dillon Holliday (6'2″ 250, '17 OL/DL) Sandy – Click for Highlights – Holliday could surprise some people. He is a very good athlete that is still growing and could end up being an under the radar steal for someone. Time will dell as to which side he projects, but with his mentality and work ethic, it could be either way.
Trendae Umi-Tuato'o (5'11" 265, '18 DL) Auburn Riverside – Click for Highlights – Trendae is definitely undersized, but plays with a real mean aggressiveness. He is athletic enough to be a FB, but projects highest as a DT. He is still growing and will likely need a few more inches, but the ability is definitely there.
Josh Hanigan (6'0″ 235, '18 OL) Bellarmine Prep – Click for Highlights – Hanigan is undersized, but plays bigger than his body. If he continues to grow, he could end up being one of the top 2018 interior linemen from Washington. He is a true center that has good mobility and likes to punish his opponent.
Bailey Elder (6'5″ 285, '19 OL) Stadium – Click for Highlights – Elder was an All-Narrows League performer as a freshman, and really solidified the spot for the Tigers. He has great size for his age and really works hard to be at the top of his game. He is a tremendous student and has a lot of upside.
DJ Keenan (6'2″ 250, '17 DL) Glacier Peak – Click for Highlights – Keenan has a physical play about his game that can be fun to watch. His has a compact frame with good power and nice feet. Could be one of the standouts in the one-on-one session.
Jackson Yost (6'3″ 260, '17 DL) Archbishop Murphy – Click for Highlights – Yost could be one of the top linemen in attendance. He has a really nice frame, good athleticism and really has his best days ahead of him.
Eric Buie (6'2″ 235, '18 OL) Lakeside – Click for Highlights – Buie plays with a toughness that you like in your lineman and works very hard. He was a part-time starter as a freshman in the state's toughest 3A conference, before moving to a full-time starter this past season. Buie has versatility to play anywhere along the line and has a lot of upside.