Click for Zach Lewis Highlights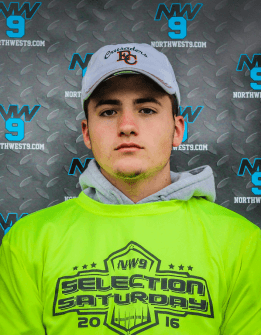 When the Eastside Catholic Crusaders take the field in the next few weeks there will be a new voice barking out signals to the offense, as Zach Lewis takes over following three great years with Harley Kirsch at the helm.
At the end of the day Kirsch will go down as one of the best QB's the State of Washington has ever seen. He led Eastside Catholic to back-to-back State Championships, and left his prints all over the state record books. To say Lewis has some big shoes to fill might be a bit of an understatement, but the junior-to-be is taking things in stride.
"I don't feel there are any particular expectations on my shoulders," Lewis told Northwest Elite Index. "Harley and I are both products of the same program. I realize I am taking over the two time defending state champs, but I know how to win. I know our offense and have been running it since 7th grade.
"All that being said I know there are big expectations on our team to win and for me to produce. I've been able to play in and be around playoff games and I'm ready to play. I always expect to win so this year will be no different."
Lewis brings a mobile game to the Crusaders. He has the ability to beat you both through the air, on the ground and really does a terrific job commanding the offense, much like the two quarterbacks he says he models his game after.
"I really like Aaron Rodgers," Lewis said. "He has a quick release and has some subtle footwork that he does that Will Hewlett and I have studied and worked on during our training. Plus, Aaron Rodgers just wins.
"Baker Mayfield from Oklahoma is another guy. I like that he was the underdog and fought his way to be Oklahoma's QB. He is not a 6-foot-3 QB and got looked over initially, but he is elusive, accurate, and a playmaker."
The keyword in all of this is playmaker, and Lewis has spent a very busy off-season showing us he is just that. From 7-on-7 to showcases and even college like training, Lewis has shown he enjoys working and improving his all-around game.
All that hard work has paid off so far, as Lewis was invited to the prestigious Northwest 9 that will take place August 1st through 4th at Northwest University in Kirkland.
"It is a complete honor to be selected to Northwest 9," Lewis said. "I think it gives me a chance to compete in one place over a four-day period against all the regions top talent. It will provide the scouts and coaches a chance to see us side by side.
"I really look forward to the evaluation process. I have been working for many years to get to this point. I look forward to the competition, being with guys with common goals, learning from top coaches, and being evaluated based on head to head competition."
The Crusaders are once again the top ranked team in the 3A classification. They recently won the UW 7-on-7 tournament and from all accounts were one of the top teams at the University of Oregon team camp in June. We will keep you updated on Lewis and the Crusaders as they head towards a third straight state championship.