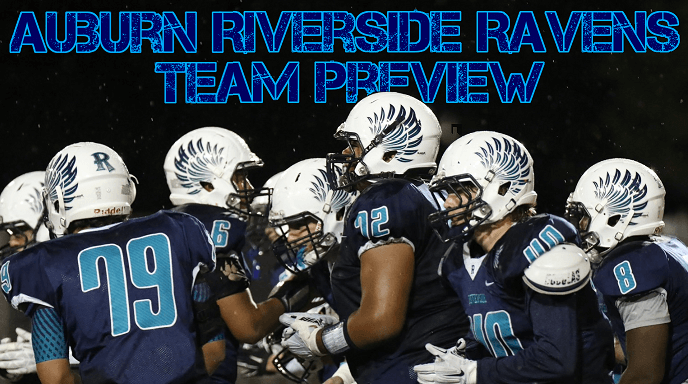 Key Players
OL/DL Terrell Moffitt (6'4″, 325, '17) – Moffit is the key up front on both sides of the ball for the Ravens, starting both ways and earning All-Conference honors for his efforts.
QB/DB Tiano Malietufa (5'10", 210, '18) – Lalietufa is a leader on both sides of the ball, playing quarterback on offense and "quarterbacking" the defense from his safety spot.
RB/LB Sam Braboy (6'0″, 205, '18) – Braboy inherits tailback duties due to the likely loss of a returning starter, but he's more than capable of filling in while also being a playmaker from his outside linebacker spot.
LB Chris Ceja (6'1″, 215, '17) – The coaches are excited about the offseason that Ceja has had. Ceja is a two-year starter who the coaches look to for leadership in the locker room as well.
WR/DB O'Darious Shaw (5'11", 173, '17) – Shaw is a difference-maker who is just now starting to realize his vast potential. He'll start both ways and be the main deep-threat for the Ravens this fall.
Overview
After two frustrating seasons that saw them go a combined 2-18, things appear to be looking for for Auburn Riverside.
Fourth-year head coach Bryant Thomas and his staff have dealt with youth up and down the roster the past couple of years and they feel that their patience with the youngsters will pay off in 2016.
"We've played a lot of young guys and that should help us because we are so experienced on both sides of the ball," Thomas said. "We don't have a lot of depth although we're developing it, but we need to stay healthy this year to get to where we want to be."
Quarterback Tiano Malietufa (5'10", 210, '18) is like a running back playing under center. While he's always been a threat as a runner, he's developed as a passer over the past 18 months and the staff thinks he could put them in a position to make a run at post-season play.
Senior Alex Caldwell was expected to return as the starter at tailback, but he will likely miss the first half of the season with an injury, so the majority of carries will be handled by junior Sam Braboy (6'0″, 205, '18) who is strong and fast and has the ability to make guys miss in the open field.
When the Ravens want to throw it, O'Darious Shaw (5'11", 173, '17) is the main target down the field, but he isn't the only receiver opposing defenses will need to worry about as freshman Javon Forward (6'0″, 180, '20) can "flat out play" according to Bryant.
Also keep an eye on Blake Foster (6'4″, 225, '17), a big H-Back type who will line up in the slot, with his hand in the ground at the end of the line and out wide.
Expect the coaches to figure out ways to get Shaw, Forward and Foster involved early and often in the passing game.
Along the offensive line, Terrell Moffitt (6'4″, 325, '17) is the headliner from his left tackle spot, but center Josh Tiegs (6'2″, 215, '17) is the man in the middle who makes all of the calls.
On defense, the secondary is loaded with talent and speed.
Malietufa and Forward are the safeties while Shaw and Jaden Robinson (6'0″, 175, '18) are at corner.
Robinson is only in his second year of playing football, but the coaches feel he could be a difference-maker now that he's gotten a taste of competition.
The defensive line has an immovable object in the middle at nose tackle in Moffit and defensive end Justus Legg (6'4″, 205, '19)is a devestating pass rusher with the ability to get after the quarterback on almost every play.
Defensiv tackle Umi Tuato'o (5'10", 275, '18) is a player who the coaches will rotate in on the inside, but he can move well enough to play outside as well.
Another name to remember along the defensive front is D'Angelo Titialii (6'0, 225, '19) another youngster who the coaches are very excited about.
Chris Ceja (6'1″, 215, '17) leads the linebackers while Braboy will also be a starter there as well.
Bottom Line: It's been a tough haul the past couple of years, but Thomas and his staff believe the pieces are in place to put the Ravens back on the map. Is it too much to think they could win an NPSL that looks to be a bit down this season? On the surface, it sure doesn't look that way. If they can stay healthy, it wouldn't be a stretch to see Auburn Riverside win the conference and get back into post season play.
Key Games
Vs. North Thurston (9/2)
@ Federal Way (10/21)
Vs. Auburn (10/28)