Click for Ben Peterson Highlights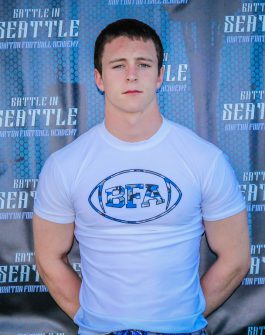 Squalicum (Bellingham, Wa.) WR Ben Peterson has seen a steady rise since the end of his junior season. Peterson holds offers from Navy, Army, Lehigh, University of San Diego, Columbia, Brown and recently added offers from Air Force and Princeton.
"I traveled out to their [Air Force] camp on July 16th and spent the day checking out the campus and absolutely loved it," Peterson told Northwest Elite Index. "I then went through the camp and afterwards talked with Coach [Mike] Thiessen and he said the coaching staff was impressed with my performance at camp and that I had earned an offer.
"He [Princeton Coach Sean Gleeson] came and saw me, and we talked about going to camp this summer. I went to camp and afterwards Coach [Bob] Surace pulled me aside and said they were really impressed with me and wanted to do an early read on me through the admissions office.
"After they finished their last camps in July, coach Gleeson called me and said that I was their number one guy at the slot receiver spot and that they were going to offer and support my admission."
The Princeton offer came while Peterson was on a trip back east. Peterson attended camps at Lehigh, Columbia, Princeton, Yale and Navy, while also visiting Brown, Harvard and MIT. While it was a long trip, it was highly beneficial for Peterson.
"It was great to go back and actually see the schools firsthand as opposed to just hearing about them so that I could really see how I felt about them," Peterson said. "Not only did I benefit from the experience of the trip, but I also got to compete a lot within different offensive styles and I felt that I also improved as a football player from attending these camps.
"I acquired a lot of new knowledge that I will be bringing back to my high school and hopefully I will be able to use the new knowledge to make a big impact this upcoming season."
Peterson attended camp at Stanford in mid-June and was able to impress the Cardinal coaches, while also making a great connection with Harvard coach Logan Johnson, who is responsible for recruiting the Northwest for the Crimson. He is also hearing from the University of Montana, but nothing is one the table as of yet.
With the season quickly approaching, Peterson is firmly focused on his senior season with the Storm.
"I would like to make my decision sometime short after my senior season but before the new year if possible," Peterson noted. "That way I can have a little time to build relationships with the incoming class I would be apart of.
"If possible, I would like to get a chance to go to visit a few of my top schools one last time before I make my final decision to make sure I make the right one."
Peterson is a tremendous all-around athlete, but it is his work off the field and in the classroom that really sets him apart. He is a 4.0 student and was voted Northwest Conference League MVP last season.
We will keep you updated on Peterson and have a Squalicum Storm team preview in the coming weeks.