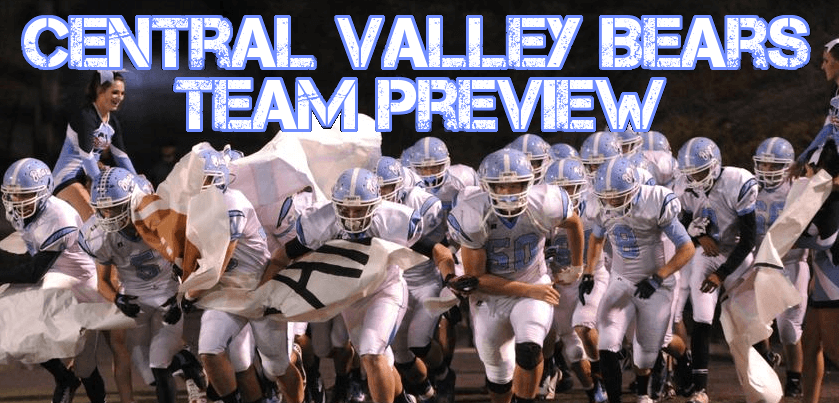 Key Players
DL Jordan Talifili (6'3″, 290, '17) – Big, strong and surprising athletic, the All-GSL performer is a load for opposing offenses to deal with.
RB Trevon Tuggles (5'11", 170, '17) – Tuggles is the top returning rusher in the GSL. He's shifty and has good speed. He'll be one of the top runners in the state this fall. Tuggles was also named an All-GSL player following his junior season.
LB Travis Hawkins (6'1″, 210, '17) – Hawkins is the leader in the middle of what should be a very stout Central Valley defense. He's smart and athletic and he can make plays all over the field.
QB Conner Degeest (6'2″, 185, '17) – While he's still got a battle on his hands to keep the starting job, Degeest looks like he'll end up being "the guy" there. He's an all-state pitcher for the baseball team, so he's got a big arm and he has the athleticism to make defenses pay with his legs.
OL/DL Trystian Arnold (5'11", 250, '17) – Solid high school offensive lineman with the ability to play almost anywhere along the defensive or offensive line.
Overview
Head coach Ryan Butner's squad returns quite a few of the top players from last year's 8-3 team that made the round of 32 in the state playoffs and expectations couldn't be higher as they head into camp.
There is a three-way competition for the starting gig at quarterback.
Senior Conner Degeest (6'2″, 185, '17) would seem to have the edge since he's got game experience and a big arm, but don't rule out Grant Hannan (6'0″, 160. '18) who the coaches are intrigued by because of his ability to make plays with his legs.
One player to keep in mind for the future is incoming freshman Matt Gabbert (6'2, 160, '20). He's the cousin for former Missouri star and current San Francisco 49er Blaine Gabbert and he's oozing with potential.
Making things easy on whomever wins the battle at quarterback will be running back Trevon Tuggles (5'11", 170, '17) who totaled close to 1,300 yards on the ground and was an All-GSL player as a junior.
When it comes to wideouts, the Bears have a solid group that includes Rhett Foley (5'10", 185, '17), Jase Edwards (6'2″, 165, '18), Braedon Orrino (5'8″, 160, '17) and Micah Mason (6'4″, 175, '18).
Edwards and Mason are expected to be two of the best wideouts in the state with their ability to get down field as well as being big and physical targets that can go up and get the ball at its highest point.
Orrino does most of his damage out of the slot and he can be deadly in that role.
Throw in junior tight end Correy Quinn (6'4″, 210, '18) and the Bears have a plethora of targets that can hurt defenses.
Up front along the offensive line, Central Valley has athleticism and experience.
Leading the way will be center Ryan Terriff (6'3″, 215, '17) and right guard Trystian Arnold (5'11", 250, '17), two physical and smart players who do a good job of controlling the middle.
Right tackle Michael Vose (6'1″, 215, '19) is a youngster the coaches are very excited about.
On defense, there might not be a bigger or better combination in the state than senior Jordan Talifili (6'3″, 290, '17) and sophomore Wyatt Wickham (6'2″, 270, '19).
Both are big and physical, but they also have the ability to get penetration due to their quickness and tenacity.
Quinn will handle one of the defensive end spots while Terrell Harrison (6'4″, 190, '17) will handle the other side.
The linebackers are led by Travis Hawkins (6'1″, 210, '17) inside while Chase Gilbert (6'1″, 195, '17) handles duties on the outside.
The secondary will be pretty young, but Edwards returns at one of the corner spots while Jase McCammond (5-10, 160, '17) holds down the other side and two juniors — Austin Tomlinson (5-10, 165, '18) and Brayden Hamilton (5-10, 170, '18) — will man the safety spots.
Rounding things out will be the top kicker in the state, Ryan Rekhow (6'2″, 205, '17), a player who has the leg to hit from 60 and the consistency to give the Bears a realistic shot to get points once they get to their opponents' 40.
The Bottom Line: The Bears have been a solid program for the better part of the last decade and with some new faces on the coaching staff, the belief is they could be ready to take the next step. A lot of things need to fall into place and they have a tough schedule to navigate through this fall, but with the talent along the offensive and defensive line and with Tuggles there to carry the load on the ground, CV could find themselves in a good spot come playoff time. Getting past the round of 32 in the state playoffs is a realistic goal for the Bears with an outside shot at making run into the semifinals if things break their way.
Key Games
@ Coeur d'Alene (Id.) (9/2)
vs. University (10/21)
vs. Gonzaga Prep (10/28)