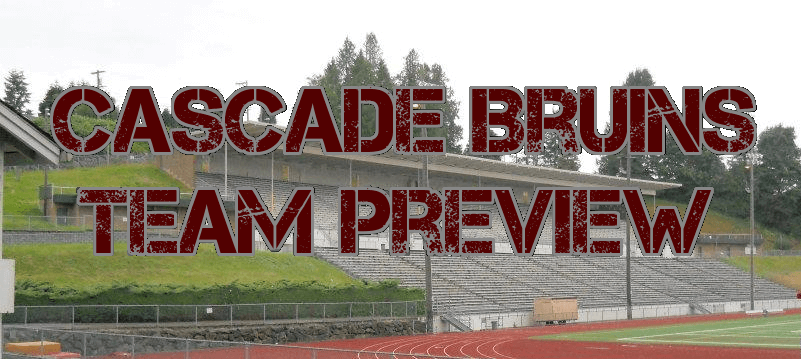 Key Players
OL/DL Eric Billings (6'3″, 290, '17) – Big, strong and surprisingly athletic, Billings could wind up being one of the top two-way linemen in the state. He's a leader on both sides of the ball for the Briuns and he plays with a nasty streak.
RB/LB Jacob Elenbaas (5'7″, 160, '17) – Elenbaas is a playmaker on offense and a gritty, hard-nosed player on defense. He's not very big, but he plays big and that's what the Cascade coaches are counting on.
OL/DL Andrew Raymond (6'5″, 305, '17) – Raymond will combine with Billings to give Cascade one of the biggest pairs of linemen in the state. For his part, Raymond is a dominant blocker on offense, handling offensive tackle duties, but he's also tasked with being a nose tackle on defense, able to hold strong against the run and take on blockers.
TE/LB Terrance Bloss (6'1″, 200, '17) – The coaches love Bloss' instincts and athleticism. He'll be counted on to be a big-time contributor on the defensive side of the ball, but he's also a sneaky playmaker on offense from the tight end spot.
QB Brett Gillis (6'1″, 180, '18) – Gillis really impressed with his ability to chuck the ball around during the spring and the coaches are excited to get him into their offense after struggling to find consistency at that spot last season.
Overview
When he took over at Cascade last year, head coach Shane Keck was bullish on both the immediate and long-term future of the Bruins' program.
The first year was more of a struggle than anticipated, limping home with a 2-9 record, but with quite a few starters returning and some key underclassmen ready to take over, this could be the year that Cascade breaks through and gets back to the top of the WESCO 4A standings.
A big reason for Cascade's struggles last season was the inconsistency at the quarterback spot.
That shouldn't be a problem for the next two years as junior Brett Gillis (6'1″, 180, '18) steps into the role.
Gillis is a gun-slinger who took over the reigns of the offense in the spring and never let go.
He'll have a big and athletic offensive line in front of him that will be led by guard Eric Billings (6'3″, 290, '17) and left tackle Andrew Raymond (6'5″, 305, '17), two returning starters with all-league potential.
Right tackle Paul Dibble (6'3″, 240, '17) might not be as big or as flashy as the other two, but he was Cascade's most consistent lineman last fall and he's back and better than ever.
When Gillis drops back to pass, he'll have a couple of underclassmen who can do damage down the field.
Harith Siddiq (6'1″, 180, '18) and Sam Sibley (6'1″, 170, '18) are big, athletic wideouts who can make teams pay.
The running game will feature Jacob Elenbaas (5'7″, 160, '17) as the top tailback. He's a shifty player with enough speed to make defenses pay if they give him too much space to work.
Senior tailback Santana Saiz (5'5″, 190) is shifty, but he's got a lot of power for such a small frame and he'll be the change-of-pace guy behind Elenbaas.
When it comes to defense, Keck, who is a former defensive coordinator, thinks the Bruins could be pretty good this fall.
Billings and Dibble will handle the defensive ends in the odd-front that Cascade will run while Raymond is the immovable object in the middle.
At linebacker, Marc Phillips (5'11", 205, '18) and Dakota Talt (5'10", 180, '18) will man the middle spots while Elenbaas and Bloss will handle the outside spots.
Siddiq and Sibley will be the starters at corner and keep an eye on Cory Guntermann (5'7″, 160, '17), a player who the coaches feel had a great spring, to be the nickel corner.
Junior Due (5'7, 185, '19) is an underclassmen that could be a real playmaker in the deep patrol at one of the safety spots while Seni Darboe (5'10", 170, '17) and Siaz will battle it out for the other safety spot.
The Bottom Line: Keck has a lot of size and athleticism on hand and it with the newly reconstituted conference, it's really hard to say what his team will be able to do. However, the Bruins improved as the season went along in 2015 and there's no reason to think, especially now that they appear to have their quarterback situation figured out, that they can't press for a spot in the state playoffs this fall.
Key Games
@ Glacier Peak (9/16)
@ Mariner (9/30)
@ Kamiak (10/28)