Click for Dean Sise Highlights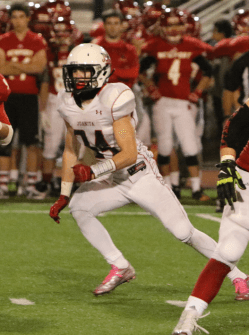 It was at the end of April that we were talking about how 2017 Juanita (Kirkland, Wa.) LB Dean Sise had finally received his first offer. Fast-forward three months and the talented linebacker is sitting on nine and he's got plans to make a visit to one of his suitors this coming weekend.
"My most recent offers are from Weber State and Army," Sise told Northwest Elite Index recently. "My other offers are from Navy, Air Force, Idaho, Montana State, Portland State, Eastern Washington and Northern Colorado and I have been talking a lot with Cal as well."
Sise recently drove the 20 minutes to take part in the University of Washington's Rising Stars camp.
"I just worked out with the linebackers and had a great time," Sise said. "Coach (Bob) Gregory had great feedback for me and said he really liked how I performed."
This coming weekend, Sise is planning to head out to see Navy as well.
"We've been working on setting this up for a while, so I'm really excited to get out there and meet with the coaches," Sise said. "It's a great university and they've had a ton of success there, so I want to see what it's really like up close and how I feel like I fit in."
As a junior last season, while playing outside linebacker, Sise finished with 48 tackles, five sacks and 10 tackles-for-loss while helping lead the Rebels to a 9-3 record and a berth in the quarterfinals of the state playoffs.
"I do my job and what I'm coached to do," Sise said. "I am always focused on being a leader and bringing energy to the field. I like to set the tone on defense and send a message every play.
"Every game I wanna be the most physical player on the field.
"I feel like I can do it all on the field, but I see my best asset as a pass-rusher. My get-off is fast and I use my explosiveness and quick hands to make the play.
"Coach (Lele) Te'o has helped me a tremendous amount with my hands and to use my explosiveness and physicality to my advantage every play."
Sise has a very nice frame (6'1″, 195) and room to add size and bulk. He has outstanding instincts and he is a physical player with strong leadership skills.
We'll have more on Sise in the coming weeks and months as he gets ready to set up his five official visits and also gets ready to start his senior season.