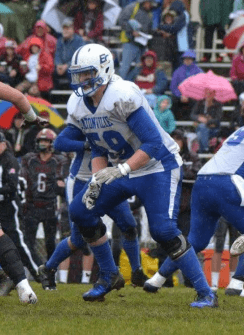 One of the biggest benefits of camp season is getting to uncover some hidden gems on the recruiting front and one that popped up this summer was 2017 Eatonville (Wa.) OL/DL Jakob Wolfe.
As a junior last year, Wolfe started every game and he came away wiser from the experience.
"I'm at my best as a run-blocker," Wolfe told Northwest Elite Index. "I can pass-block just fine, but when it comes to run-blocking, I've been doing it for so long, I just feel much more comfortable doing that.
"As a kid, pretty much all we did was run the Wing-T, so I have been run-blocking since I was little and it's just sorta carried forward."
This offseason, the 6'8″, 315-pounder has been hard at work honing his skills.
"I'm definitely working on getting stronger," Wolfe said. "I've been in the weight room almost every day and that's something I think that will really help me as a senior.
"I've also been working on my sets — both pass-blocking and run-blocking — and trying to make sure my footwork is right to get my power down and the last thing is that I am watching a lot of film on myself. It's not easy watching yourself, but you can learn alot — when did you get off-balances, were your hands in the right spot — stuff like that."
On the recruiting front, things are still just getting started for Wolfe, but a few schools have been showing him some interest.
"I don't have any offers yet, but Washington State has invited me to a game and Washington came down to our practice this spring and Portland State has been the one that has really been talking to me a lot," Wolfe said. "They text me all the time and I think they're interested, but I'm not really sure how interested at this point."
Camps have been a blessing to Wolfe, showing him what he needs to work on while also getting a chance to get in front of coaches.
"I was at the Dirt Dawgs (Washington) camp and the Rough Diamonds camp," Wolfe noted. "I also attended Washington State's camp, Oregon State's camp and Boise State's camp and I had a great time and learned a lot at each one of those.
"Mostly coaches have said they liked my size and how coachable I am. If I do something wrong and they show me how to correct it, I can usually get it down in a couple of reps."
Wolfe is a big kid who still has a lot of room to a grown and improve.
He's worked hard this offseason to get stronger while showing a competitive nature that allows him to face off against some of the best pass-rushers the region has to offer.
As long as he remains patient with the process, Wolfe should attract more and more schools once they get a look at what he can do this fall.
Wolfe is definitely a prospect to keep an eye on and we'll do just that, updating news on him as it happens.