Click for Austin Lane Highlights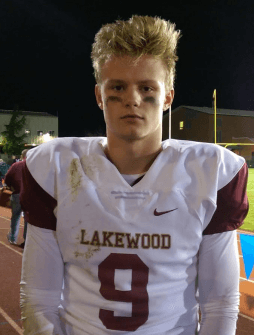 Having just finished his junior season, Lakewood (Wa.) QB Austin Lane has already turned his attention to what he hopes will be a big senior campaign next fall and that all begins with what he does this offseason, both by himself and with his team.
As a junior this past season, Lane went 176 of 304 (57.9%) for nearly 2,000 yards with 18 touchdowns and five interceptions and he also rushed for four touchdowns as well.
"I'm definitely more of a pocket passer," Lane told Northwest Elite Index recently. "I'd say that my reads and knowledge of the offense we run is what really helps me. My footwork is already pretty good.
"I can scramble if things break down, but I'd say I am more of a power runner rather than a guy who will make guys miss. If I have to run, then I can lower my shoulder and get those extra yards if we need them, but for the most part, I like to sit back and make plays with my arm and let my receivers make the plays down the field."
Even though he's already an accomplished passer, Lane isn't resting on his laurels.
"Oh I have a lot of things to work on and fine tune," Lane said. "I definitely want to get even better at reading defenses; recognizing when they are disguising things or delaying things, whatever they are trying to do, I want to be able to have a good understanding of what they want to do.
"I also want to be better at throwing on the run and you can always work on your footwork and your mechanics."
As far as camps this offseason, the 6'3″, 200-pounder said he's planning to hit as many as possible including the Barton College Prep courses as well as several team camps although he's unsure of which ones at this point.
"We were 4-6 last year, so this year, we all want to get back to the post season, to the playoffs," Lane said. "I think we have a good group coming back and we're all dedicated to making sure we are doing whatever we need to do in order to get back to where we want to be and that will be about us lifting and throwing together and just working on the things we need to get better at in order for us to win more games and get into the playoffs."
Recruiting is just getting started for Lane, but he said he isn't too worried about things at this point.
"Oregon State is really the only school I have heard from and even that was pretty limited," Lane said. "It's just been the basic, introductory stuff – giving me information on the program and the staff there. It's just starting up, so I know there's a lot of time.
"I'm just going to keep focusing on my team and getting better and the rest will take cre of itself."
Lane is a player to keep an eye on over the next 14 months as he goes through the recruiting process. With his size and athleticism, he's a player who should start to garner more attention as schools get a look at his junior film and see him live at different events. He's definitely a prospect for recruitniks to remember.