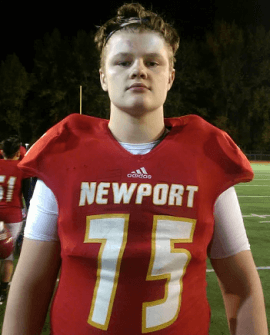 It wasn't the best season for Newport as the Knights finished with a 1-9 record, but a player who emerged this season was 2018 OL Charlie Baumann.
Baumann was part of an offensive line that paved the way for the Kingco Conference's top rushing attack and he finished the year being named 2nd team All-League.
"I started at left tackle and felt I did pretty well individually," Baumann told NEI. "I got a lot bigger and that helped me a lot. I was in the weight room lifting and getting stronger almost every day. Some of it was lifting with my team and my teammates and some of it was stuff I worked on by myself with a trainer.
"I also got a lot better as a pass-blocker because we threw the ball a lot more than we had in the past."
With his junior season in the rearview mirror, Baumann will turn his attention, at least partially toward recruiting.
"Well, recruiting is really just starting up for me," Baumann noted. "I was invited up to Washington State for their game with Arizona and I've had a bunch of D-2 and D-3 schools — Central send me information, but other than that, it's just getting started so I know it'll probably pick up."
This offseason, the 6'4″, 275-pounder said he plans to get to work on his strength and technique.
"I improved my strength a lot from last year, but I want to get even stronger," Baumann said. "I'm also going to work a lot on my feet and my overall technique because you can never be too prepared for those.
"I've also been wrestling this year in the 285-pound class and that has been great in helping me with leverage and my footwork and my overall endurance."
We saw Baumann at a few camps last offseason and you could see the progress he was making. He said he hopes to hit the Washington, Nike and Barton camps during this upcoming spring and summer.
NEI will continue to keep tabs on Baumann in the coming months and we will update news on him as it happens.