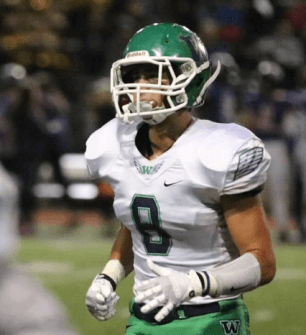 One of the more under-the-radar receivers in the region is 2018 Woodinville (Wa.) TE/WR Jared Eisenbarth.
During the regular season, Eisenbarth hauled in 15 receptions for 153 yards with one tochdown, receiving Second Team All-Kingco for his efforts, and he recently told Northwest Elite Index about his offseason focus.
"Definitely running, but I also want to add some size and I am also hoping to help lead our offseason to work hard every day before we get our senior season started," Eisenbarth said. "I feel like I did a pretty good job of blocking and keeping the team focused and giving our all on every play.
"I just love to get out and compete and I think we have the team to do really well next year, but we have to be focused this offseason in order to be ready for the season."
At 6'0, 185 pounds, Eisenbarth fits the mold of Woodinville's wideouts perfectly and his toughness is something that comes through when you watch him block.
"I take pride in it," Eisenbarth noted. "I feel like it's a way I can help my team, but I also just like to hit and be physical and it's a way for me to contribute even though I'm not getting the ball in my hands."
On the recruiting front, things are just getting started for the talented prospect, but he has received some early interest from D-3 programs.
"Mainly it's been the University of British Columbia, Linfield and Whitworth," Eisenbarth said. "It's just been letters and information mostly."
Eisenbarth hit several camps last spring and summer — the Northwest Elite Camp, the Eastern Washington Camp and the Rough Diamonds Camp — and he plans to hit those as well as the Northwest Stars, Montana, Montana State and Washington State camps as well.
"I'm also planning on doing some 7-on-7 stuff too, so I'll be busy this summer with that plus my baseball schedule," Eisenbarth said.
We'll have more on Eisenbarth in the coming weeks and months as he gets further along in the recruiting process and we will update news on him as it happens.