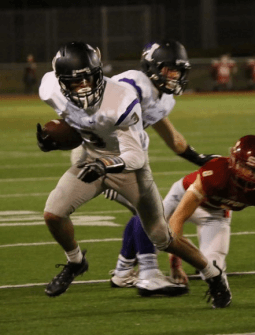 Issaquah (Wa.) senior Trey Gevers is one of the top receivers left on the board from the state of Washington that is still looking for the right collegiate fit.
As of now, Gevers is hearing from the likes of Western Oregon University, Montana Tech, Dakota State, and University of Redlands, but has yet to receive an offer.
Academics are important to Gevers and will play a role in his final decision. He currently sports a 3.5 GPA, while taking honors courses, and scored a 1320 on the SAT (640 math, 680 reading/writing).
"I have taken sports medicine at my high school," Gevers told Northwest Elite Index. "I will graduate high school with 10 varsity letters. I have big aspirations in the medical field and plan on majoring in pre-medicine."
The 6-foot-3, 180 pounder is no slouch on the football field either. He shows great athleticism, runs crisp routes and has a high football IQ. Gevers was a two-way starter the last two seasons, and handled kick return duties as a sophomore.
There is always a need to get better, and Gevers understands that hard work is the key to long term success, that is why he models his game after a local NFL standout.
"I try to model my game after Seahawks WR Doug Baldwin," Gevers said. "I really like the fact that he came into the NFL an underdog by being undrafted and did not stop working until he was no longer an underdog, and is now a top receiver in the NFL.
"His work ethic is unmatched and you can see his dedication to the game."
Gevers was a captain last football season, and is also a captain for the Swim & Dive team at Issaquah, where he is a three time state finalist in the 1M Dive. When not participating in sports or studying, Gevers has found time to log over 100 hours of community service.
Time will tell, but the school that takes a chance on Gevers might be getting one of the bigger steals come signing day.